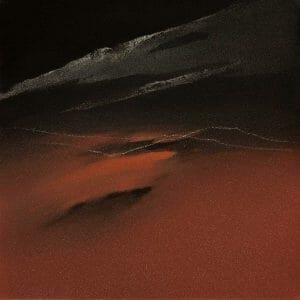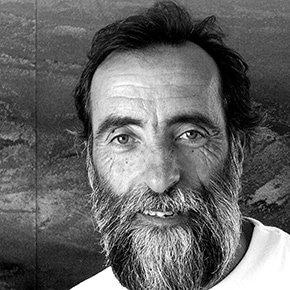 Ildefonso Aguilar, who works in Lanzarote, uses a technique with volcanic ashes and sands for his acrylic paintings. The surfaces consist of many fine layers and only selected areas have a coarser structure. Through a final polish the paintings have a moderate and flawless impression. Ildefonso Aguilar finds inspiration in the peculiar powerful qualities of the volcanic islands of Lanzarote and Iceland. He describes it as a "minimalism charged with strong simplicity and a certain tartness".
Since 1975 he has been present at numerous exhibitions and fairs in Spain, Germany, Denmark and Portugal. His works are in many private and public collections, as well as in Spanish and German museums.
Continue reading
Minimal Landscapes – Painting and Photography
Ildefonso Aguilar, born in 1945, has lived in Lanzarote since 1946. He expresses his connection with the island's landscape in his paintings, photographs, musical compositions and architectural artworks. He is also an important representative of the ecology movement on the island and is seen as a spiritual successor of Cesar Manrique.
From 1963 to 1968, he studied art in Santa Cruz de Tenerife. After that he taught painting and drawing for six years in Arrecife. Since his main activity of oil painting on canvas didn't satisfy him personally, he devoted himself increasingly to a lifelong passion, Photography.
He developed a new technique in which he worked on the photographs with sand, first applying glue to the surfaces, then designing them with the sand grains. From an initial idea, he composes landscapes with different sand – fine white grains from the beach Caletón Blanco and coarser dark from Playa Quemada. The surfaces are made of many thin layers and only selected areas exhibit a coarser structure. With a final polish, he gives an even and flawless completion.
He actually applied this technique in painting on wood, for example on such that is traditionally used for ship building. Also these sand pictures on wood are distinguished by a particularly harmonious surface.
The bareness of the island, the primitiveness, the purity – these are the main sources of Ildefonso Aguilar's inspiration. On a broken piano he sets his observations, his impressions, his feelings into music. While he sits at this instrument, you can actually see how he listens to nature, picks up short sequences and puts them into music.
"In my pictures it is about expressing something fundamental and this I can achieve with various approaches: by going macroscopically close to the elements or by seeing them at an infinite zoom at the horizon or by a synthesis of both points of view. It is clear that my pictures often have a certain tendency to become abstract."
Through his travels to Iceland the multimedia artist is now also inspired by the nature of the largest Volcanic island on earth, which has much in common with his home. He finds inspiration in the specific nature of the islands of Lanzarote and Iceland.
In an interview he said: "I have worked a lot with the topic of volcanism of Lanzarote and its natural park of Timanfaya. In this volcanic world, what fascinates me most are the areas of the volcanic ash and its dunes.
It is true that Iceland has the same aesthetic concept as Lanzarote – a minimalism that is charged with a strong simplicity and a certain austerity. Since Iceland has a much larger area, feelings of solitude and purity are much stronger. I would say that I feel an obsession for this country and for the wonderful light of the Arctic."
In his photographic work Ildefonso Aguilar shows the "Gestures of Landscape", which the artist can read and understand by subtle and patient observation. He worked on the photographs with sand and makes inner images of atmospheric landscapes visible. In recent decades he has developed further technically through the possibilities of digital photography and new printing methods.
The photos are Giclee Prints, which are characterized by high resolution, sharp contrasts, tiny color nuances and extreme characterized detail. Today Ildefonso Aguilar is one of the few artists who applies sand art on paintings and photographs. Out of many layers of fine sand, he creates a landscape or rather a mood or feeling.
Exhibitions
Solo Exhibitions

2018
Gallery Flow Fine Art, Hitdorf
2017
TEA Tenerife Espacio de las Artes,
Teneri a (ES) Gallery Garcia de diego,
La Palma
2016
AP Gallerie, Madrid (ES)
2015

Gallery Flow Fine Art, Hitdorf

AP-Gallery, Riaza, Segovia (ES)

2010
"Die Erscheinung der Landschaft",
Las Palmas de Gran Canaria
2009
"Landscape fragments",
Gallery Reitz, Cologne (D)
2007

"Entre Islas" (Between the islands)

Gallery Argenta, Valencia (ES)

"Entre Islas", Gallerie Krabbe

Frigiliana, Málaga (ES)

2005
"The essence of the landscape",
Gallery Edurne, Madrid (ES)
2004
"Senderos" (trails),
Gallery Argenta, Valencia(ES)
2003
Sala Conca, La Laguna, Teneriffa (ES)
1998

Kraftwerk Augst AG

Gallery 45, Augst (CH)

Arco 98 – Arte Contemporáneo

– Fair of contemporary art

Conca-Room, Madrid (ES)

1999
Gallery Am Domplatz, Münster (D)
1996
Gallery im Alten Schloss, Wehr (D)
1995
Gallery El Aljibe, El Almacén, Lanzarote (ES)
1992
Gallery Attiir, La Palma, Gran Canaria (ES)
1990
Center of modern art,
Mont de Marsan (F)
1986
Gallery Godoy. Tías, Lanzarote
1984
Casa de la Cultura.
Puerto del Rosario, Fuerteventura
1981
Gallería Rodín. Santa Cruz de Tenerife.
1980
Gallery Limbach, Köln (D)
1975
Casa de Colón,
Las Palmas de Gran Canaria (ES)
1964
Casa Parroquial. Arrecife de Lanzarote.
Círculo de la Amistad XII de Enero.
Santa Cruz de Tenerife
Group Exhibitions

2016
Gallery Flow Fine Art, Hitdorf
2010
"El Color de la Pintura"
(The colour of paint),
Gallery Mácula, Santa Cruz de Tenerife (ES)
2009
"Duende" (Fairy),
Together with the artists
Arne Haugen Sorensen,
Antonio Valverde
und Perry Oliver,
Holsterbo und Thisted (DK)
2005
"Identidades" (Identities),
Gallery Edurne, Madrid (ES)
2004
Palacio de Santa Cruz, Valladolid (ES)
2003
"La Ciudad y los Artistas"
(The city and the artists),
II Lanzaroter Biennale (ES)
2000
Opening Exhibition des Museo del Paisaje Español
Contemporáneo, Priego de Córdoba (ES)
1998
"Ciento y… postalicas a: Frederico Garcia Lorca",
Museo de la Casa de la Moneda, Madrid (ES)
José Abad, Ildefonso Aguilar, Elena Betancor.
GEO sala de arte. Puerto Calero, Yaiza. Lanzarote.
1989
"The art of the 20th century and it's techniques",
Mönchehaus-Museum, Goslar (D)
1986
30 x 30 El Círculo.
Santa Cruz de Tenerife
1985
Arte Actual de Canarias, Madeira (POR)
1979
Selection. Bad Naumheim (D)

Collections

Collection, Angela Reitz, Riehen, (CH)
Museum of modern art, Goslar, (D)
Patrimonio Nacional, Madrid, (ES)